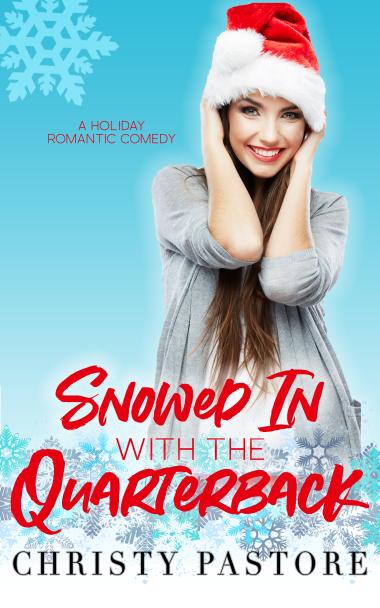 Series: Snowed In Collection, #1
Featuring: Amy Robertsen + Spencer Ward
Genre: Contemporary Romance, Holiday Romance
Tropes and Details: HEA, Forced Proximity, Second Chance, Celebrity, Sexy AF Quarterback, No Nonsense Heroine, Funny and Sweet Moments, Hot tub = HAWT Chemistry, Cozy Town of Hollybend sets the backdrop, Standalone Holiday Novel
ABOUT THE BOOK:
All I want for Christmas is to be home with my family.
Instead my flight's been cancelled, and I'm stuck at the airport.
I love snow, but not when it's making me late for a date with my mom's famous mashed potatoes. And don't get me started on the apple pie.
As visions of sugar and carbs dance in my head, I settle in with a bag of cheesy chips instead.
Then what to my wandering eyes does appear—a tall figure with unruly dark hair moving through the room, and oh holy night. My heart skips a beat when they meet his familiar, killer blue eyes and panty-melting smile.
Spencer Ward, superstar quarterback (and my first crush)—here inside gate eighteen among a gathering crowd. He shouts in my direction and surprise quickly comes. When he offers me a place to stay, I think… well, this could be fun.
I've always been on Santa's nice list, but maybe this Christmas I'll give naughty a try.


Note: Snowed In with the Quarterback is a bite-sized steamy Christmas rom-com treat filled with heat, heart, and humor. Short and Sweet!