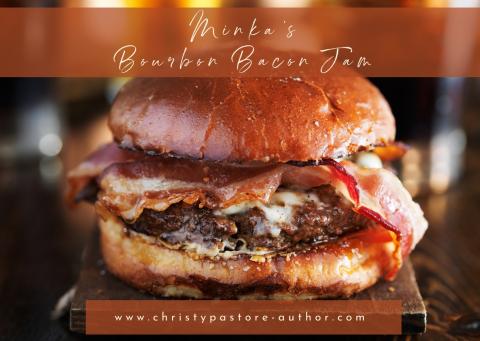 Ingredients:
12 oz bacon, chopped (small pieces work best)
1 sweet onion, finely chopped/diced
3-4 garlic cloves, minced
2/3 cup apple cider vinegar
5-6 Tbsp brown sugar
5 Tbsp bourbon
5 Tbsp water
A pinch of black pepper to taste
A little bit of salt never hurts
Variations of the recipe:
Spicy: I don't like much spice. BUT if you do, add a pinch or more of cayenne pepper.  If you like things HAWT→ add as much cayenne pepper as you like!
Garlic: I LOVE me some garlic! If you're a garlic lover like me, add some minced garlic to your burgers. I like to add garlic and a bit of onion powder to mine.
Instructions:
Sauté bacon over medium heat until crispy. Approx 8-12 mins. Add in onion and garlic, cooking until soft and tender. Approx 3-5 mins. *I recommend that you do not use microwave bacon. Center cut bacon is a good choice. There could be a lot of grease so I would drain about half the grease.
Add in the apple cider vinegar, brown sugar, bourbon, water, black pepper, salt, and cayenne *If you elected for spice. Combine all ingredients. Bring to a boil, then simmer. Stirring occasionally until the liquid is mostly cooked off. Approx 10-15 mins. Mixture should be thick and syrupy.
Serve immediately. Or place in a container and refrigerate for a later date.
Tips:
Bourbon Bacon Jam recipe yields approx 1 1/2 - 2 cups.